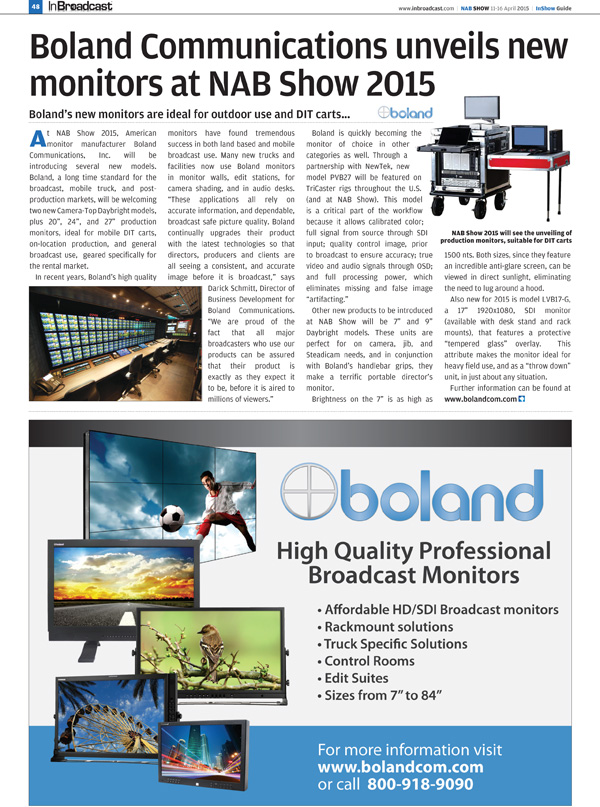 Boland Communications featured story in "InBroadcast" magazine
BY Boland Communications IN Press On 20-10-2015
"InBroadcast" magazine featured Boland monitors at the NAB Show 2015. The article tells about some of the latest monitors. Here is a transcript of the article:
"Boland's new monitors are ideal for outdoor use and DIT carts…
At NAB Show 2015, American monitor manufacturer Boland Communications, Inc. will be introducing several new models. Boland, a long time standard for the broadcast, mobile truck, and postproduction markets, will be welcoming two new Camera-Top Daybright models, plus 20", 24", and 27" production monitors, ideal for mobile DIT carts, on-location production, and general broadcast use, geared specifically for the rental market.
In recent years, Boland's high quality monitors have found tremendous success in both land based and mobile broadcast use. Many new trucks and facilities now use Boland monitors in monitor walls, edit stations, for camera shading, and in audio desks. "These applications all rely on accurate information, and dependable, broadcast safe picture quality. Boland continually upgrades their product with the latest technologies so that directors, producers and clients are all seeing a consistent, and accurate image before it is broadcast," says Darick Schmitt, Director of Business Development for Boland Communications. "We are proud of the fact that all major broadcasters who use our products can be assured that their product is exactly as they expect it to be, before it is aired to millions of viewers."
Boland is quickly becoming the monitor of choice in other categories as well. Through a partnership with NewTek, new model PVB27 will be featured on TriCaster rigs throughout the U.S. (and at NAB Show). This model is a critical part of the workflow because it allows calibrated color; full signal from source through SDI input; quality control image, prior to broadcast to ensure accuracy; true video and audio signals through OSD; and full processing power, which eliminates missing and false image "artifacting."
Other new products to be introduced at NAB Show will be 7" and 9" Daybright models. These units are perfect for on camera, jib, and Steadicam needs, and in conjunction with Boland's handlebar grips, they make a terrific portable director's monitor.
Brightness on the 7" is as high as 1500 nts. Both sizes, since they feature an incredible anti-glare screen, can be viewed in direct sunlight, eliminating the need to lug around a hood. Also new for 2015 is model LVB17-G, a 17" 1920×1080, SDI monitor (available with desk stand and rack mounts), that features a protective "tempered glass" overlay. This attribute makes the monitor ideal for heavy field use, and as a "throw down" unit, in just about any situation."
---
2 years ago / Comments Off on Boland Communications featured story in "InBroadcast" magazine